Clean Water Initiatives Fund $55 Billion Via BIL 2021. In early November 2021, Congress passed the Bipartisan Infrastructure Law (BIL). This is the single most significant and one-of-a-kind investment in water infrastructure that the federal government has ever made.
According to the statement by Administrator Regan, the President's Bipartisan Infrastructure Deal makes historic investments in protecting public health, tackling climate change, creating jobs nationwide across communities, and delivering a more equitable future. (The White House, 2021)
What the Historic Investment Includes
In addition to building roads, bridges, and rails, the Bipartisan Infrastructure Deal will ensure expanded access to clean drinking water. The Bipartisan Infrastructure Law invests more than $50 billion through the Environmental Protection Agency's (EPA) successful water infrastructure program. The funding is an excellent opportunity to strengthen and rebuild America's water infrastructure.
$20+ billion for safe drinking water.
$15 billion in dedicated funding to replace lead pipes.
$12+ billion to ensure clean water for communities.
$1.8 billion to protect regional waters.
$135 million for additional water improvements.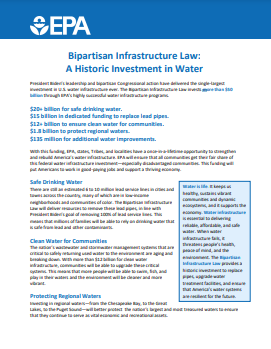 Click here to view EPA's Fact Sheet about the Bipartisan Infrastructure Law
Clean Water Initiatives Mean Safe Drinking Water
The legislation aims to eliminate lead service lines delivering clean water inititives to all American families. According to the EPA, it is estimated that there are still 6 to 10 million lead service lines in cities and towns across the country. These include not only American households but also schools and child care facilities. The lack of safe drinking water is a serious concern, and it can have far-reaching effects on people's health and well-being.
In line with President Biden's goal of removing 100% of lead service lines, the Bipartisan Infrastructure Deal will invest $55 billion to remove these lead pipes. This will ensure access to clean drinking water for households, schools, child care facilities, and businesses across the country. This means millions of families will no longer need to worry about harmful effects caused by lead or other pollutants in the water. (EPA)
Clean Water Initiatives for Communities
The nation's wastewater and stormwater management systems are aging. These systems are critical as they work to return used water to the environment safely. With more than $12 billion for clean water infrastructure, communities will be able to upgrade the crucial systems. People will be able to play, swim and fish in their waters freely, and it will also help make the environment more clean and vibrant.
The Impact of the Bipartisan Infrastructure Deal
Water keeps us healthy. It helps us sustain vibrant communities and supports the economy. Adequate investment in water infrastructure is vital to national security. A lack of investment can risk people's health, jobs, well-being, and prosperity.
The nation has seen underinvestment in water infrastructure for a long time. The Bipartisan Infrastructure Deal is a testament to the federal government's understanding of how important it is to remove lead pipes to achieve the goal of safe drinking water.
Lead can be harmful to human health even at low exposure levels. This is why the EPA has set the maximum contaminant level goal for lead in drinking water at zero. All sources of lead exposure, especially for young children, should be controlled or eliminated. You cannot see, taste, or smell lead in drinking water. The best way to know your risk of exposure to lead in drinking water is to get the water tested and identify the potential lead sources in your service line and household plumbing. (CDC, 2020)
How TDT Plumbing Can Help You
TDT Plumbing's LeadSmart program has revolutionized how tap water is tested for lead, so the water is safe to drink. We are Texas' first LeadSmart Water Testing Provider, and this program is covered by over 40 U.S. and international patents. The EPA-approved LeadSmart program uses on-site water testing equipment and methods for testing lead in drinking water.
Whether it is homes, schools, hospitals, or office buildings, aging plumbing can expose water to lead and copper. We're happy to help! Call us at (713) 697-2088 to reach a trained TDT LeadSmart specialist or contact us to schedule your LeadSmart Water Testing.
Works Cited
 The White House. "Fact Sheet: The Bipartisan Infrastructure Deal." The White House, The United States Government, 6 Nov. 2021,
www.whitehouse.gov/briefing-room/statements-releases/2021/11/06/fact-sheet-the-bipartisan-infrastructure-deal/.
EPA. EPA, Environmental Protection Agency, www.epa.gov/infrastructure/water-infrastructure-investments.
CDC. "Lead in Drinking Water." Centers for Disease Control and Prevention, Centers for Disease Control and Prevention, 18 Nov. 2020, www.cdc.gov/nceh/lead/prevention/sources/water.htm.