Low water pressure, pinhole leaking pipes, rusty-colored water are three common distress signals from your home's plumbing system. When a simple repair won't solve the problem, it's time to consider PEX repiping.
Houston PEX Repiping Specialists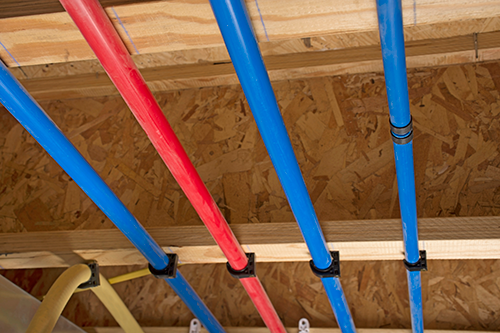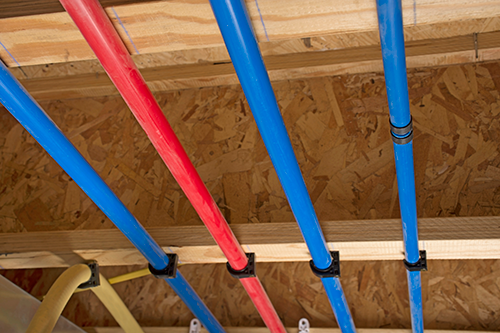 PEX, also known as cross-linked polyethylene, is an increasingly popular repiping material. That's because of its flexibility and durability. TDT Plumbing repiping specialists offer PEX Repiping as one option for restoring your home or business's plumbing to like-new condition.
PEX Repiping Flexibility
The advantage of PEX is its flexibility. One end of PEX pipe connects to a PEX manifold. TDT Plumbing's certified PEX Repiping specialists then wind the PEX pipes through walls and floors. PEX runs uninterrupted—to each fixture location. Since we use Uponor's lead-free PEX, no lead components are used which makes PEX Repiping from TDT Plumbing a safer choice.
PEX Plumbing Advantages
Fewer Leaks: PEX pipes require fewer fittings than traditional piping. This means less chances of leaks at joint connections.
Flexible: PEX pipes can be installed in long runs, including 90-degree turns without coupling fittings.
Corrosion Resistant: PEX pipes resist scale build-up common to copper or galvanized pipe.
Less Expensive: PEX piping is less expensive than copper pipe and because less fittings are needed, installation time is reduced.
PEX Pipe Installation
PEX Pipe, ranges from 3/8- to 1-inch in diameter. It also comes in a number of colors: red PEX pipe for hot water and blue PEX pipe for cold. To provide a longer-lasting solution, TDT Plumbing PEX Repiping specialists use Uponor's engineered plastic fittings which compensate for expansion & contraction of the PEX. This provides a much more reliable and secure fitting which last far longer than traditional plumbing.
Is PEX Repiping The Solution For You?
TDT Plumbing offers a variety of plumbing restoration options for home and business. PEX Repiping is one. ePipe Restoration is another. We believe in giving you options. That's why we provide both a PEX Repiping estimate and corresponding ePipe estimate at no charge to you. Learn more about ePipe Restoration from TDT Plumbing.
PEX Plumbing Repiping Projects Start Here
Call (713) 697-2088 now. Or, fill this out and A TDT Plumbing repiping expert will follow up to learn more about your issue and schedule an evaluation.