Galvanized pipes were good in their day. Unfortunately, over time they corrode, rust, and develop leaks. That means lower water pressure, rusty water, and worst of all: pinhole leaks. 
PEX repiping from TDT Plumbing puts those problems in the past by replacing your pipes with long lasting PEX pipes. Best of all, we can get it all done in 3-4 days.
Top 3 Repipe Warning Signals
PEX Repiping Flexibility & Durability
Flexibility is a PEX advantage. After connecting to a manifold, TDT Plumbing's certified PEX Repiping specialists wind your new PEX pipes through walls and floors uninterrupted—to each fixture location.
Durable and flexible PEX (also known as cross-linked polyethylene) uses fewer fittings, resists corrosion, and is more economical than copper. Since TDT Plumbing only uses Uponor's lead-free PEX system, no lead components are used making it a safer choice.
Another advantage of Uponor PEX pipe and ProPEX fittings from TDT Plumbing: They are covered by Uponor's 25-year transferable limited warranty.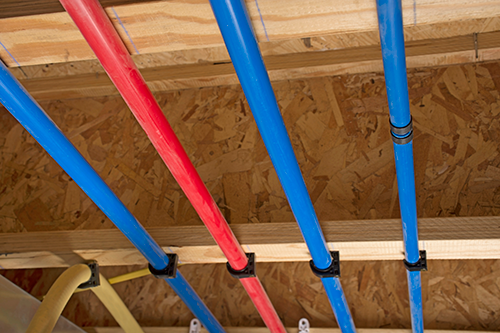 PEX Pipe Installation: only the best
To provide a longer-lasting solution, TDT Plumbing repiping specialists use engineered plastic fittings which compensate for PEX expansion & contraction. You get a more reliable, more secure, longer lasting system than possible with traditional plumbing.
Is PEX Repiping Right For You?
PEX is just one of TDT's plumbing restoration options. We believe in giving you options: PEX, Copper, ePipe Restoration.  You be the judge: We give you both a PEX Repiping estimate and ePipe estimate at no charge. Learn more about TDT Plumbing ePipe Restoration.
PEX Plumbing Repiping Projects Start Here
Call (713) 697-2088 now. Or, fill this out and A TDT Plumbing repiping expert will follow up to learn more about your issue and schedule an evaluation.