Leaky Pipe Repair With Little Intrusion
When a water main break or water leak happens in city streets or a public facility, it's a problem that needs immediate attention. TDT Plumbing specializes in providing in-place leaky pipe location and pipe replacement services for water main break or other pipe point repairs. Best of all, we perform these services with little to no disruption to your staff or the public.
TDT Plumbing repairs and restores leaky pipe within the walls or underground, without tearing them out or digging them up. Cities, the US Military, hospitals, universities, airports, and churches have benefitted from TDT Plumbing's revolutionary Cured In-Place Pipe Repair and ePIPE In-Place Pipe Repair technology to preserve their facilities and campuses.
Leaky Pipe Inspections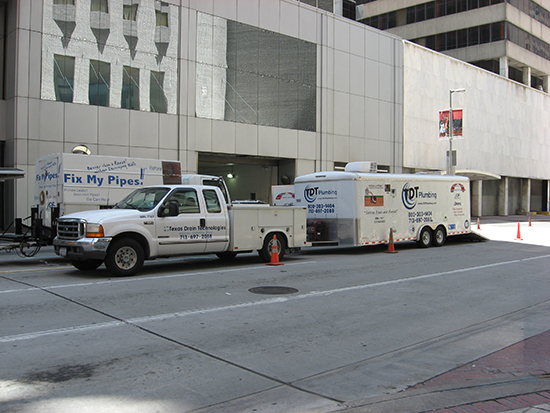 Before we conduct any plumbing work TDT Plumbing thoroughly analyzes your situation before recommending an effective solution for the repair. As such, we provide a variety of leak detection and investigative services to complete our diagnosis.
No municipal plumbing job is too big or too small for TDT Plumbing to provide the service you expect. We are equipped to handle small leaky pipe repair at the local aquarium to full-scale airport water leaks to plumbing improvement projects, in a variety of municipal settings:
Government Buildings
Airports
Prisons
Schools and Universities
Zoos and Aquariums
Read case studies about recent TDT Plumbing municipal plumbing projects.
TDT Plumbing leaky pipe repairs save time and money
Many times the age of a facility, limiting operations, or the presence of asbestos limit traditional re-piping. TDT Plumbing's ePIPE effectively restores leaky pipes under all these of these conditions. Since in-place pipe restoration restores a building's piping system within walls, you save thousands of dollars by not paying to replace existing plumbing. The costs saved by not destroying walls, removing and replacing pipes, and redecorating combine to make pipe restoration the less expensive alternative.
Begin your repair process today
Call (713) 697-2088 now. Or, fill this out. A TDT Plumbing Municipal Plumbing specialists will respond promptly.