Houston Property Managers facing a repipe have a unique responsibility to get real value for maintenance and repairs, without inconveniencing occupants of buildings and homes they manage. Whether residential or commercial, no Property Manager wants to inconvenience clients. The word "repipe" makes us shudder as we know the time and cost of replacing pipes in systemic failure. Older pipes can also create a liability for building owners as studies reveal lead in drinking water.
Is a repipe the best way to stop lead leaching, leaks, brown rusty drinking water and poor water pressure? Not anymore. Houston Property Managers have choices. Here are some challenges experienced with a repipe and a solution you need to know about.
Plumbing Repipe In Older Structures
Any structure built before 1950 can have service lines that contain lead. Any structure built before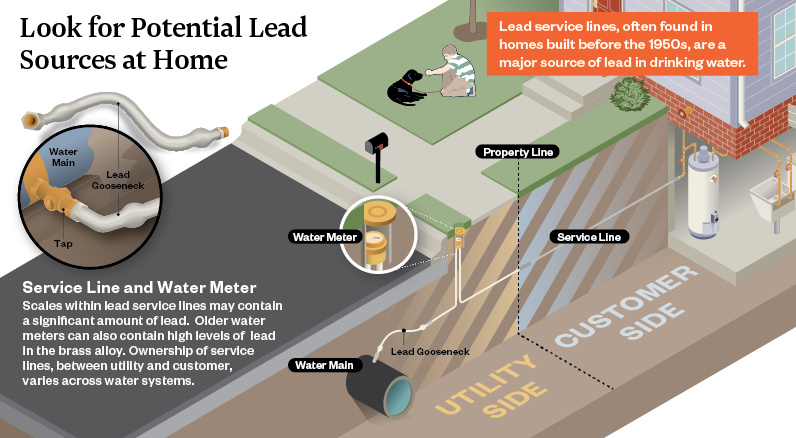 1980 can have galvanized pipe. Galvanized pipe is coated steel commonly used for water lines.  A well-known problem with galvanized pipe is that the solder used to bond joints often contains lead. Over time, the pipe coating erodes and lead from the solder begins to leach into potable water supplies resulting in a serious health risk to humans and animals. (Rosenfeldt 2017)
In a study published online in the scientific journal Environmental Engineering Science, they note that when copper pipes are fitted upstream from galvanized steel piping, lead release from zinc coating on galvanized pipes downstream can be exacerbated. (DeBaun 2015)
Plumbing Repipe Requires Demolition
Removing existing pipes is a demolition project no Property Manager wants to face. Demolition means removing existing sheetrock in walls and ceilings. In older buildings, there may be asbestos present requiring expensive remediation.
Plumbing Repipe Displaces Occupants
Whether residential or commercial, a repipe means discontinuing water service to occupants making the facility unusable while new pipe is installed, displacing residents and occupants. Public facilities without working bathrooms are not Health Department compliant. If your structure is a food-service establishment, a shut-down of your facility means loss of income. Repipe delays can be financially disastrous.
Plumbing Repipe Requires Ceiling and Wall Repair
The walls and ceilings removed during a repipe will have to be replaced. Sheetrock installation and repair is a process that requires taping, floating, drying and sanding time, along with major clean-up. Plumbing companies that advertise that they do wall repair will not leave them in finished condition.  Once the sheetrock is repaired, paint or wallcoverings need to be done.

Plumbing Repipe Alternative
As Property Manager, you will do your best to get value for repair dollars. A repipe is a major disruption that requires direct supervision by facilities and maintenance personnel. A large project can take months to complete.
This is your opportunity to look at all of your available solutions. One solution you may not have considered is a pipe rehab with a process called ePIPE. ePIPE is a patented epoxy coating that has won awards for innovation. The process is quite amazing and clients rave about the results. Scientific tests on the application show that pipes are renewed for an additional 70 years of use. All done without displacement of occupants and demolition. Danger to occupants with lead and asbestos is remediated with the process.
The ePIPE Process – Case Study
Our ePIPE Technical Experts will come to your facility and do a walkthrough to identify a scope of work. We can even compare pricing to any quote you get for a repipe. We are determined to create healthy, safe drinking water supplies for our clients with ePIPE. It's the next generation of pipe rehab technology that will prevent you from having to deal with the unpleasant disruption that comes with a traditional repipe.
CONTACT TDT PLUMBING HOUSTON NOW
Works Cited
Rosenfeldt, Becki, and Erik Rosenfeldt. "Reducing Lead Levels in Drinking Water." Hazen and Sawyer, Nov. 2017, www.hazenandsawyer.com/publications/reducing-lead-levels-in-drinking-water/.
DeBaun, Dan. "Galvanized Steel Pipes Leach Lead into Drinking Water." Bigberkeywaterfilters.com, 11 Aug. 2015, www.bigberkeywaterfilters.com/blog/lead/galvanized-steel-pipes-leach-lead-into-drinking-water.