HUD Properties Benefit from Using ePIPE as a Solution for Pipe Leaks and Corrosion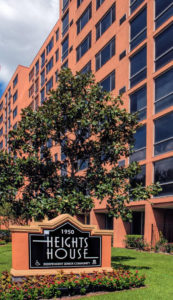 Recently two HUD Senior Living facilities in the Houston area were experiencing the effects of major corrosion in their piping systems.
Extremely low water pressure, rusty water and pinhole leaks were disturbing the needs and daily routines of the occupants of both buildings. Conventional repair methods would be extremely disruptive to both residents and staff, and may have caused them to be without water for extended periods of time, which could have required displacement of the residents.
TDT Plumbing, an ePIPE affiliate in Houston, was called on to provide the patented ePIPE solution as a less invasive and cost effective alternative to a repipe.
Heights House
The Heights House is a Senior Living Facility built in 1978, consisting of 151 units. TDT Plumbing worked with the client to develop a timeline based upon the needs of the residents, utilizing shorter work days in order to provide minimal disruption to their daily routines. Watch this video featuring the residents of Heights House and their endorsement of the ePIPE process:  
Woodland Christian Towers
Woodland Christian Towers provides affordable housing to seniors and disabled adults, and consists of 126 accessible apartments. The property contains asbestos, so traditional methods here would require abatement, adding cost to the overall project. TDT was able to provide a viable solution that was City of Houston, ADA and NFPA code, and standard compliant.
---
Want to learn more? Listen to the TDT Podcast:
Podcast: Play in new window | Download
Download the Project Portfolio Here