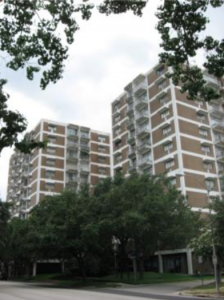 Project Type: Commercial & Industrial — Condominium – Pipe Restoration — Epoxy Coated
Location: Houston, TX
Description: Built in the 1960's, Texas, Parc IV and V Condominiums consist of two separate high-rise, twelve story towers. The towers are located in mid-town in Houston, Texas – a vibrant and eclectic part of downtown Houston.
THE PROBLEM
The condominium's galvanized plumbing system was experiencing extensive pinhole leaks and general pipe corrosion throughout the complex. Repairs to leaks and associated cosmetic damages at the condominiums had become routine. In addition to the pinhole leaks, residents were also experiencing low water pressure, inadequate hot water and occasional rusty water. Residents were frustrated and demanded a long-term solution.
THE SOLUTION
The HOA board sought to find a more permanent and cost effective resolution. Re-piping was considered, however, the cost of the re-piping, the extensive demolition of walls and ceilings, plus the cost of the cosmetic work to repair the demolition areas made re-piping prohibitive. After some research, a board member discovered TDT Plumbing and its ACE DURAFLO® epoxy coating process. TDT Plumbing conducted an evaluation of the potable plumbing system and determined it was a candidate for pipe restoration. TDT Plumbing, in conjunction with the HOA's professional engineer consultant and property manager, developed a pipe restoration plan that would use the ACE DURAFLO® epoxy coating process. A schedule was set and the damaged pipe was restored and replaced as needed.