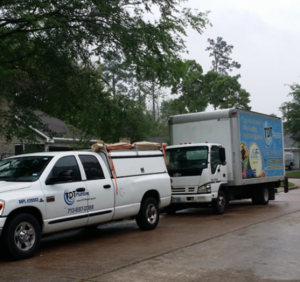 Hearing water drip under your sink is an easy problem to find. Wet spots on the ceiling is a good indication of a pinhole leak. But what about underground leaks in your drain and sewer system? What if they're under your slab? The good news is TDT Plumbing has the technology and experience to pinpoint and repair problems with minimal inconvenience to you.
Some of the techniques TDT Plumbing employs in leak detection include digital camera inspection, hydrostatic testing, and low-pressure air tests. These processes help us locate a leak. Repairing it may mean accessing it directly. For that, we recommend tunneling.
Is Tunneling the Right Option for You?
The word "tunneling" might sound like a huge project, but it's actually tidier than jackhammering your home's slab to access potential leaks. Tunneling eliminates the need to move furniture, remove flooring, and possibly even move you out of your home temporarily. Tunneling by TDT Plumbing means downtime is often substantially shorter, so you'll be back to running water in no-time.
Instead of jackhammering your floor to get to the problem from above, TDT Plumbing can tunnel to the problem from below. By doing it this way, we can get right to the problem identified by our leak detection equipment.
Leak Repair Without Tunneling?
Once the location of the leak is determined, we employ the best solution for it—which could possibly not involve tunneling. TDT Plumbing's Cured-In-Place Pipe Repair, for instance, uses a seamless bladder that molds to your existing drain line creating a pipe within your pipe, stopping leaks. If replacement is necessary, our Trenchless Sewer Line Repair enables TDT Plumbing to replace faulty sewer pipes with minimal digging.
Leaks Don't Repair Themselves
Delaying drain and sewer leaks will only cause more problems for you and your home. Water collecting under your home undermines the integrity of your slab leading to expensive foundation repair.  If the leak demands direct access, our tunneling specialists can find and repair the problem with minimal disruption to your everyday life.
TDT Plumbing's leak detection and repair technology delivers the best repairs with the least amount of disruption to you or your yard.
Call TDT Plumbing today at (713) 697-2088. Our drain and sewer repair experts will quickly ascertain if you have a leak and explain your best options for a fast and long-lasting repair.